MoHi Boy's Volleyball Making History
Montclair's first-ever boy's volleyball home game was Tuesday, February 21st against Jurupa Valley, the intense match ended in a 3-0 outcome. Fast forward to later in the season after a total of 16 matches, the team stands at a current 11 wins 5 loss streak.
Senior, Gabriel Stopani, playing the OH (Outside Hitter) position as #12, was recognized as an impressive player with a forceful spike that defended his team all night. He is best known for his nickname on the court as "Prime". Stopani is the co-team captain, while, senior, Julian Beltran, is the other captain. Beltran plays the position of OPP (Opposite Hitter) as #5 on the court. As captains, Beltran and Stopani hope to lead their teammates to victory in tomorrow's upcoming game on April 5th at 3:30 against Ontario.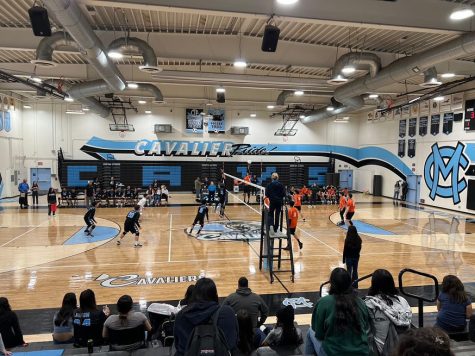 Stopani had this to say about being a part of Montclair's first-ever boy's volleyball team, "I think that it's such a bittersweet thing to think about because although I am so thankful to be captain of the first-ever boy's volleyball team at Montclair, it makes me sad knowing that I will only get to experience it for my last year in high school. I wish I had just a little bit more time here to see this program expand. And shout out to Coach Valenzuela!"