Tribute to Boseman
"There is power in a diverse human experience" – Lupita Nyong'o
The 30th film of the Marvel Cinematic Universe (MCU), as well as the last film in 'Phase Four', will finally be released in the United States on November 11, 2022. Once again directed by Ryan Coogler, 'Black Panther: Wakanda Forever' is a 2022 sequel to the original Black Panther movie that first premiered in 2018. 
The new movie is not only new entertainment for fans but a farewell to a huge loss. In August 2020, when director Ryan Coogler was still in process of creating the screenplay for the new movie, gifted lead star Chadwick Boseman (43) died from Colon Cancer. This overwhelming loss was not only a shock to worldwide MCU fans but to almost everyone. From the cast who worked to form 'Black Panther' to the studio executives at Disney and Marvel, no one was aware that the passionate actor was suffering a "quiet battle" since his first diagnosis in 2016. The reality of this is that during the filming of four MCU films (Black Panther, Avengers: Civil War, Endgame, Infinity war), Boseman was carrying out his role as King T'Challa/ Black Panther while also carrying the sickness that would, later on, take his life. Because the actor was convinced that he had beat the disease and was well enough to film, Marvel decided not to recast his role.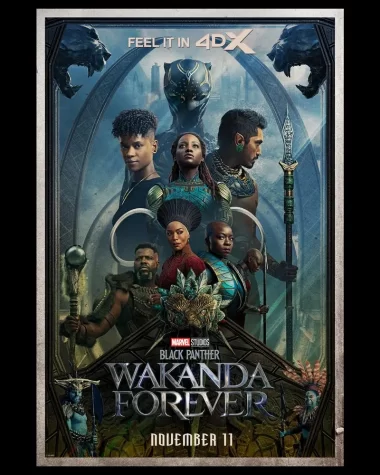 The new movie's soundtrack commemorates culture in the movie by featuring a merge of African and Latin American artists. Tems, a Nigerian singer and producer co-write the lead single of the film "Lift me up" which is then sung by Rihanna. The soundtrack of the movie was filmed in Mexico, London, and Nigeria. Lupita Nyong'o, the actress who stars as Nakia the Wakandan spy says that "it's always good to be able to relate to people who do not look like you and to see your humanity in them. Our diversity is our strength as human beings." This shows the many elements of diversity that the movie is presenting to new fans. 
Overall, Black Panther: Wakanda Forever has been seen to have a huge weight of emotions attached to it with its sound film, diversity, and tribute to Chadwick Boseman.