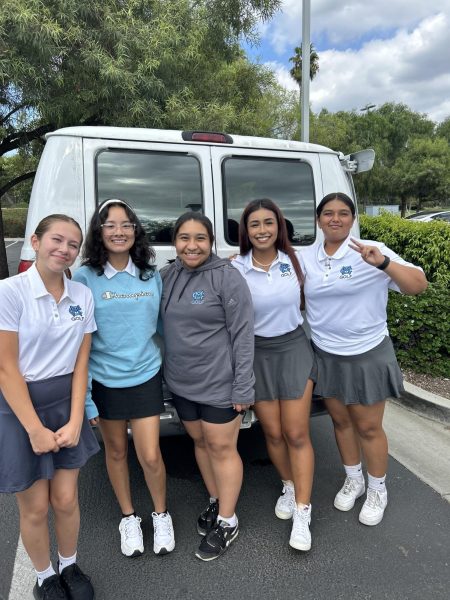 Right before the end of school last year, excitement was in the air as a fresh sports team emerged on the scene. Montclair High School has launched its own Girl's Varsity Golf Team! Before this, the team was a hodgepodge of girls and boys. With 10-12 girls on the squad, these talented players hit the course every match.
In recent years, golf has been gaining more attention and enthusiasm, leading to its current popularity. With so much growth flooding into the girls' golf scene, Title Nine has played a big part in why this team exists today. Title IX ensures equal opportunities for female athletes in federally-funded educational institutions, from elementary to higher education. This means that, not only would this team never have been made without it, but these girls may have never found their love for golf.
But, without a coach, there's no team at all, Title IX or not. It takes a great amount of determination, time, and effort to fulfill the demanding role of a leader, but Mr. Douglas was more than ready to take this spot.
Story continues below advertisement
"I think I wanted to be a golf coach because of how much I enjoy playing golf. I think that golf allows individuals to play well beyond high school. For many of our athletes once they reach the end of their senior year the chances of them playing in their sport are very limited, so golf kind of allows you to continue your competitiveness and allows you to play longer than just your four years of high school." 
Mr. Douglas played baseball at a college level but unfortunately, it didn't work out. During this time, he started playing golf.
He said, "I just picked it up by chance."
And this chance has led him to so many opportunities. From laughing along with his team, giving support when needed, and simply watching his team grow, it had to have been fate for him to pick up that gold club. With so much passion exuding from Mr. Douglas, he's already set out his goals for this season.
"I think we've obtained our goal, number one because this is the first year we have had a girls' team since the school's inception. The goal for this year's team that I would like is for– I always tell the girls we will get better, so if we can get better weekly, that's a goal. And we want to have fun because golf can be a fun sport when you're with friends."