Valentine's Day Gift Ideas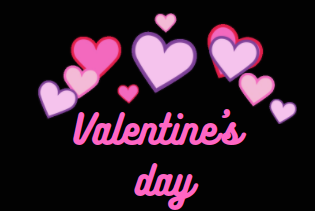 Valentine's Day is right around the corner but sometimes choosing what to give to that special person may be difficult. There are many different things that you can buy or make to be able to gift to friends or your significant other.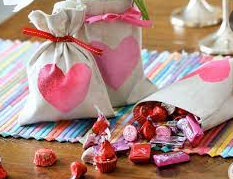 Sometimes making things for others can show just how much you care about them, an easy small gift to make is a goody bag. You can fill it up with the person's favorite treats and choose different bags to put them in. Some common candies used are chocolates like Kisses, Twix, and Kit Kats. You can also put little notes inside and decorate the bags.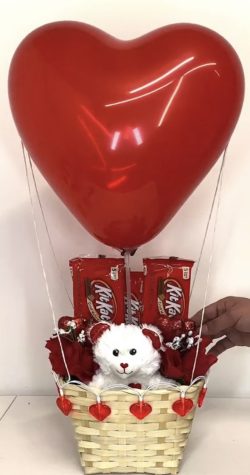 A cute and fun thing to make someone for Valentine's Day is a heart hot air balloon basket. You can purchase these items at almost any store. First, you get the basket and inflate the balloon. Make sure to have a stick for the balloon so that it is able to stand up in the middle. Attach a string going from the edge of the basket to the balloon. Then you can add things around the basket as shown in the picture. Lastly fill the basket with treats, stuffed animals, or other goodies that your special person will enjoy.
Making different treats is also a very common gift idea. Some people like to make cupcakes, cake pops, and cookies. You could add decorations and even practice your icing skills. Making cupcakes is not as difficult as some people might think. It is even easier when you go and buy the cake mix at the store. You can make these any flavor and add different colored icing or different things on top like cookies and sprinkles to make them look better.
Making different heart arrangements is also very common and can make a cute gift for someone. You can make a heart shapes picture collage of you and your friends or your significant other. There are many other things that can be used like flowers and candy.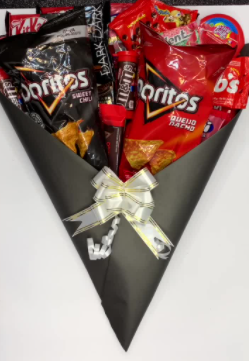 If you don't want to give someone flowers or they don't like them you can also make a candy bouquet with their favorite snacks. You can get small wooden sticks and tape or glue candy to them. Then, you can put them together as you would with flowers and wrap poster board paper around them. To finish off you can tie a bow where the paper meets.
You can also give cards if you have something special to say to someone which can also be a good way to express yourself and show creativity. You can make your own card or add things to a card to make it more unique for another person.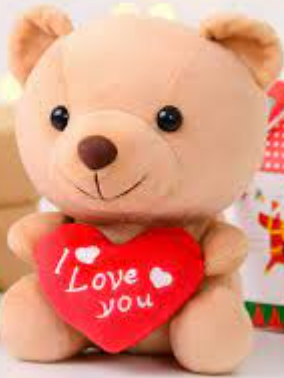 Some common things to buy someone for valentines day are cute stuffed animals, flowers, necklaces, and candles. You can find all of these things at local stores like Target.
You can also stay home and watch movies or do some of your favorite activities together if you don't feel like going out. You can play your favorite board game or video game. You can also make something together like fun little crafts, puzzles, or baking.
You don't have to spend a lot on the people you love even spending time with them can be a good Valentine's Day gift. You could go to different places like parks and have a picnic. Consider even taking your significant other or friends to eat somewhere and spend time together.