Montclair Lady Cavalier Classic
As winter sports get ready to head into CIF playoffs, girls wrestling prepared by holding a huge home tournament on January 29, 2022. This tournament is well-known for being one of the hardest tournaments to compete in because of how much attention it attracts. Other schools have wrestlers who are state qualifiers or even state placers come to the tournament here at Montclair in order to get good mat time before CIF duals and CIF individuals.
Kathy Castro (10th) has been wrestling for 10 months at the 120 lb. weight class. She prepared for the tournament by practicing both in school and on her own free time, watching her diet, and staying focused by listening to music. She joined wrestling in the middle of her Freshman year because she wanted to push herself and it seemed like it would be fun. However, she has dealt with  her own hardships like dealing with loss.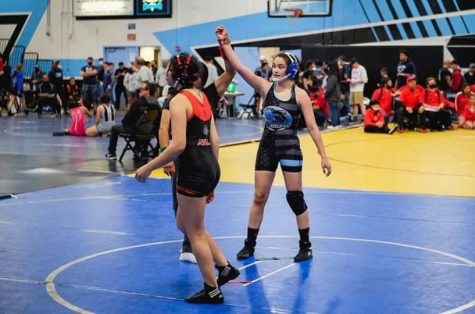 Castro explained, "If I lose a match I don't beat myself up over it. I tell myself 'it's ok' and I make mental notes on what I could have done in the match to win. I take note of what I failed to do in that match and incorporate my mistakes into my practice in order to come back stronger and beat the next person." Despite being the underdog with only ten months of experience, Kathy proved that she has what it takes by placing 7th at a varsity level tournament.
Another underdog who overcame her inexperience, freshman Emma Herrera, wrestled her way in 95 lb. weight class to win 7th place. Herrera sets high expectations for herself  and practiced relentlessly during her practice. Despite only being a freshman, Herrera competed against juniors and seniors and set high expectations for herself.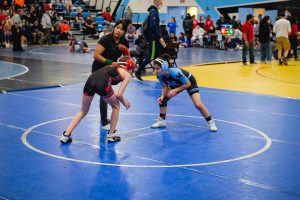 Herrera stated, "My expectations for the weekend is that I win matches and place at the home tournament. I know that I'm a good wrestler and I am confident I will place in the top 8. I also expect to see my girls place as well because we have been putting in work everyday to win all of our matches."
Our young wrestlers won medals at a difficult tournament before their post season. Our veteran wrestlers also made some noise in this tournament. Darleene Galleges (11) wrestled at 189 lb. weight class and took home first place. She has been wrestling for three years and transferred from Colony to Montclair. She worked on her errors and common mistakes the week before the tournament. She had misgivings the days before but, she reminded herself that she had to focus on the positivity from her teammates and would remind herself that she has gotten to where she is because of how much work she has put in. Despite only knowing her teammates for less than a year, Darleene was motivated to do her best because of them.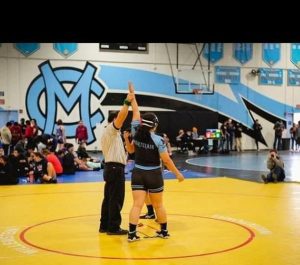 Galleges stated, "I see how much success they've had during all of their seasons and I want to be a part of that. They encourage each other to do their best and cheer each other on during their matches. It's a family I want to be a part of."
Our final seasoned wrestler is Emily Ramirez (11) who wrestled at the HWT weight class.The maximum weight for HWT is 240lb. and Emily entered at 212lbs. She is our longest lasting wrestler from Montclair who participated in the tournament. Emily placed 2nd in the tournament. She has been a part of the team for 3 ½ years and prepared by staying relentless during practice and pushing herself despite being exhausted. She also reminds herself that she has beaten state placers from different states and knows that she is capable of wrestling at a higher level. She admits that she gets nervous the week of competition but she takes the competitive side out of it and remembers to have fun during her matches. Emily has gone through a lot of injuries this year including a displaced collarbone and displaced shoulder and despite these injuries she is still motivated to work towards her goals.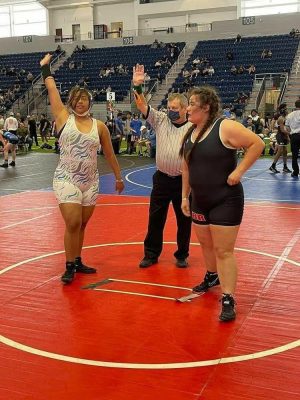 Ramirez explained, "My dad motivates me as well as my club coach Matt Furr and the goals that I set out for myself. I know what I am capable of and that is to wrestle at state. I know that I am a good wrestler and I know that I can make it despite all of the hardships I have to endure because it makes me stronger."
These girls worked hard and definitely made a impact at the tournament this past weekend and really showed how much they care for the sport.  It is thanks to their aspirations and coaches that help them find motivation to bounce back from a loss to win a medal.