The Head of Montclair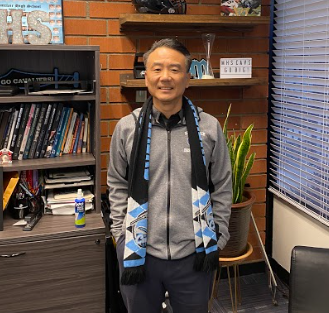 Do you really know our principal?
Many students may feel disconnected with the campus. They come and go with the sound of the bell. However, our principal is ever so present in our daily lives. You may have seen Mr Cho walking around campus. He smiles and waves at the students. He's at every school activity, showing nothing but dedication to Montclair. Students might fail to notice this. So, I implore you to take a look around and appreciate all Montclair does for you. The resources are there, whenever you may need them. Now, onto the man of the hour: Mr. Cho.
Our principal's full name is Joshua Soo-Ha Cho. Mr. Cho immigrated from Korea when he had just turned five, changing his name as a result. Cho explains, "In Asian countries the last name goes first, so it's Cho Soo-Ha and it sounds like Joshua when pronounced". He has been at Montclair since 2015, serving two years as principal. "I have so many favorite memories at Montclair". "I just enjoy being involved in activities, where I see students smiling and laughing". "I love seeing students happy and fulfilled here at Montclair". "Those are the moments I enjoy the most", says Cho. Such heart-warming words from the principal regarding the students. 
Have you ever wondered what the role of a principal entails?
You might ponder this question as you see Mr. Cho strolling across our halls. The answer, however, is a long one as a principal has many obligations. "I have a lot of meetings". "Whether it's with families, students or staff members". "As the instructional leader of the campus, I help with all the instructional programs at Montclair". "I do what I can to support all staff and departments". "I also deal with many other school related issues such as the facilities, layouts, air conditioning and even the internet". "I play a role in any big decisions that need to be made regarding the school". "I represent the school in whatever I do". "That leads me to do a lot of different things everyday, which I love doing". "Most of the time, my job is to just be with the school and students". "I do what I can to help in my role", says Cho. A tedious amount of work goes into such a position and it's all done for the benefit of the school. 
Mr. Cho states, "I want my students to be able to say that they attend a school that helps them with their goals through a supportive community". Mr. Cho continues on by saying, "It's a collaborative effort". "We all have a role and as students you have a role too". "You have to want to do well". "You have to want to put in the effort and energy to be the best of yourself". "Not only academically, but also in your character". "Be kind to one another". "A lot of times we are worried about what other people do and say". "I think we should all focus on ourselves and on how we can be the best person possible". "If we do that, it's going to turn out to be a much better and cohesive group".
The next time you see Mr.Cho around campus, make sure to say Hi. Let's show all the staff how much we appreciate their efforts.