Doja Cat Most Talked About Wardrobe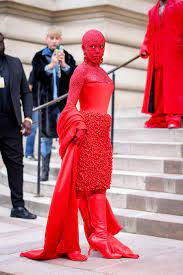 "The things that this woman does for fashion are ridiculous".
Singer and performer, Doja Cat has attended a Schiaparelli couture show covered in red crystals. These are not just ordinary crystals, these are known as Swarovski glass Not just a few, but her whole body! 30,000 Swarovski crystals were glued on her makeup and outfit which took 5 hours to do. Pat McGrath, makeup artist, and her team thought it would be a brilliant idea for a wardrobe that no one ´ s previously attempted.   
Many fans and the social media have been mentioning if Doja's wardrobe is the best outfit she has ever worn. "I love Doja and her music! But this outfit, not my favorite," Jaylene Gastelum, sophomore at Montclair stated. "She has a nice style and I wish she would have expressed it more instead of looking creepy."Although her outfit has seemed to be unaccepted from Doja, other fans find her attire a masterpiece. Another sophomore at Montclair, Dulce Maria, strongly believes this is one of Doja's top outfits, "People might not appreciate her right now, but she's definitely going to go down in fashion history." 
The dress of course was made for her and a huge commitment to couture. Couture looks aren't exactly easy to recreate, and yet fans find this look messy or hot if this is going to be her top outfits of the year even though it has just started. The rest, we'll leave up to you!