Bad Bunny Course Taken Place at SDSU
An upcoming graduate course in 2023 spring offers a class on an uprising and famous Latino artist, Bad Bunny. Taught by, Dr. Nate Rodriquez, associate director of journalism and media studies at SDSU.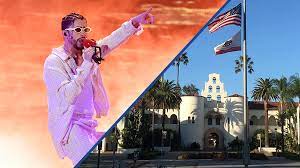 This semester class will be focusing on his impact on Latino culture and music. Dr. Nate Rodriquez strongly believes the level course will bring up the diversity of Latin culture and will bring more critical issues upon his music that can cover advocacy and politics based in Puerto Rico and globally. 
For fans, Bad bunny is more than just the year's best artist. He is a hero who pushes for reform in Puerto Rico. SDSU students interested in learning more about Bad Bunny and Latin Culture are interested in signing up for the 2023 semester.