Netflix Biggest Series: "Wednesday"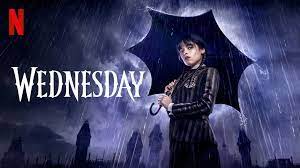 Netflix's latest series, "Wednesday", starring Jenna Ortega has been one of the top 10 in 2022 for best series!
Tim Burton – director of the best movies like Batman, Beetlejuice and Edward Scissorshands has directed the series and believed it would be a great contribution to The Addams Family. 
With only a total of 752.5 hours viewed since it premiered on November 23, the television series has now been the most-watched English TV show in Netflix history. Netflix has also stated that the series is making the company the biggest series overall compared to other Netflix shows, Stranger Things and Squid Games!
This has also been reflected on social media, especially on TikTok, which shows almost 3 billion videos under "#WednesdayNetflix". The hashtag is often under videos of people dancing to the Wednesday's unique and bold performance on the show, showing the true impact this show has had on many.