Halloween Treats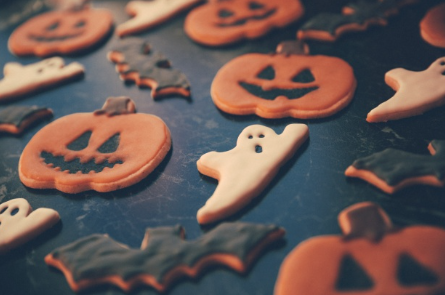 Halloween is a great time to spend with family and friends. Everyone is excited to get some treats once the sun sets. However, another great part of Halloween is making treats with your loved ones. It doesn't matter if they don´t come out great, you can still have a great time making them. Here you can find some easy and fun recipes to try this Halloween.
Halloween sugar cookies
Everyone has seen a sugar cookie before, they can be made in any shape making them the perfect treat for any occasion. You can make your own sugar cookie dough or just buy one from your local grocery store. Once you have the dough, all you have to do is buy or make your own cookie cut-out. This can be placed on top of the dough and cut out to make your desired shape. Some good sugar cookie shapes for Halloween are pumpkin, witch hat, ghost, Frankenstein, cat, candy corn, and bat. Then just add your icing using a piping bag or ziplock bag if you do not have one and just cut the corner enough so that a good amount of icing is able to come out. Use as many different colors as you want to create designs on your cookie. This could also be a good activity to do with friends and have a cookie decorating contest.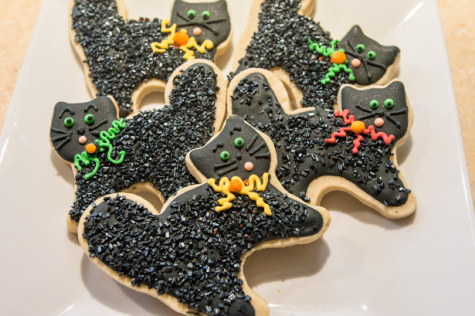 Chocolate dipped pretzels 
This is a very quick and easy snack to make while still being in the Halloween spirit. All you have to do is buy pretzel sticks and some white chocolate. You can melt the chocolate in the oven in 30-second intervals. Then you dip about ¾ of the pretzel into the chocolate and let it try. Once that is done just add. Eyes and a mouth with black edible marker. Here is a video explaining how to make them.
Banana mummies
These can be made using chocolate and bananas. Cut the bananas in half and dip them into melted chocolate. Once dipped, immediately place the eyes using M&M candies or your preferred candy for the eyes. Then place the remaining melted chocolate into a bag and cut the tip off so that you are able to form the pattern of the mummy. 
Witch hat cookies
These cookies are made using Oreos, a common favorite. All you need is Hershey's kisses, chocolate, and Oreos. You melt some regular chóllate and place some on top of the cookie. Make sure to cover just enough area of the cookie to be able to stick the kisses on top. Or you can cover the top of the cookie in chocolate and just place the Hersheys on top and you have made a cute witch hat cookie.