Why Should Students Recognize our School's Color Guard Team More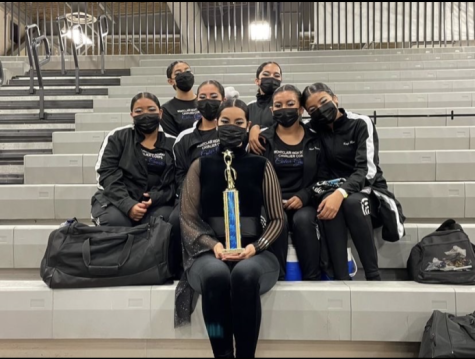 Here at Montclair High School, sports are the most focused on the form of entertainment. Football, basketball, and soccer are sports students are usually drawn to. One team on campus students tend to overlook is our school's Color Guard team. Color Guard is a group of performers at MHS who choreograph dances and routines with equipment such as wooden weapons and flags. 
Students at MHS were asked if they were aware that there is a color guard team here. "Really, there's a color guard team at our school?" Jazmin, a sophomore at MHS stated. "If I had known when I entered this school, I would have most likely joined the team."
Not everyone's aware our school has a color guard team. Auditions were held before the school year of 2022-2023 and only six students tried out, including incoming freshmen. We currently have 9 members on the team.
Color guard is a big commitment to do. You must attend practices and competitions throughout the whole year. Competitions take place at different high schools competing with other color guards teams. Last year, we had a winning streak until getting 4th and 2nd place with their final performance, "Weirdo". Although it was unfortunate the team didn't get 1st place, they were all impressed with themselves because each performer put all their effort and time into making a beautiful performance. 
"I think it would've been nice for our program to get more recognition. Simply because we honestly work very hard and I think that what we do is worthy of recognition." Our school's Color Guard Captain, Sofia Sanchez quoted. 
Along with that, Co-Captain, Dulce Maria, and Equipment Manager, Jaylene Gastelum, both agree students at Montclair should be more inspired by the team: "It's a cool activity. We have also won many competitions–which is very cool," said Dulce Maria.  "We end up creating a new family along with great memories," stated Jaylene Gastelum. 
Color guard is more than flag performance, it embraces the tradition of honoring former and present soldiers who are in the Air Force. It brings out leadership, knowledge, and beautiful techniques. Each player takes the art of flags very seriously and encourages others to join and share beautiful pieces about this work of art. 
"Montclair always has a special place in my heart. They are strong, dedicated kids, that is what keeps me coming back here year after year," Color Guard Coach, Dylan Martin explains. "A lot of people don't think that marching band and color guard is a sport, which it actually is." Coach Martin believes students who don't do too much activities should benefit from joining color guard and the band team here at our school. "Also too, Color Guard teaches you life lessons that you're going to use for the rest of your life: Time management, responsibilities, making sure your team is ready to go, leadership qualities. And overall it teaches you to be a better person." Coach Martin added. 
By Coach Martin's side, Mariala Hernandez, Martin's fiancee, added, "I started to help." Hernandez believes creating new choreographs can help make a story for the audience to notice main issues that are involved within our community and impacts that are happening to our lives. "That's just kind of why I fell in love with it and I just want the kids to be relatable with our shows and have them basically want to be here." 
Being in Color guard helps embrace the beauty of dance throughout your body along with big flags. The team should be more involved than ever by people joining and gaining more recognition. Would you be willing to join and try out for next year's team 2023-2024? 
"We just don't learn new skills. It's more than that, we also form as a second family. One of the best parts of this program, in my opinion, is the bond we created. It is one of the most rewarding parts" Color Guard's Captain, Sofia Sanchez.