What are Students Wearing to School?
Fashion is something that we can all relate to. Even if you don't consider yourself to be a fashionista, you still wake up in the morning and throw on some clothes that were trendy at some point in time. I know that many people love to come to school to see all the creative outfits that people wear. 
What you choose to put on your body can give other people an idea of who you are as a person. While it doesn't reveal everything about who you are, clothing can help you connect with other people who may have the same interests as you. 
So, let's see who you can connect with!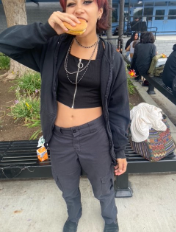 This senior girl got her shirt and jewelry from the thrift store. 
Her pants are from a popular store Tillys.
She would describe her style as gothic but casual. She claims that most of her clothes are from the thrift store because it's so cheap and it's fun to look through the piles of clothes. It's like a treasure hunt!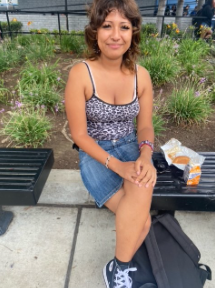 This senior girl got both her cheetah print shirt and denim skirt from Mexico. 
Her jewelry is also from Mexico.
She would describe her style as very feminine but still comfy for school.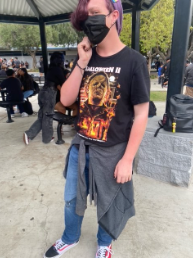 This sophomore boy got his Halloween shirt from a thrift store and his pants from Ross.
His hat and shoes are both from an online store.
He would describe his style as very casual but still with a touch of his own personality reflected in them, as we can see with his beanie and his hair.
This junior girl got her jeans from the thrift store and her gray tank top from Target. 
Her jacket and shoes are both from her parent's closet. 
She would describe her style as comfy and casual with an alternative twist.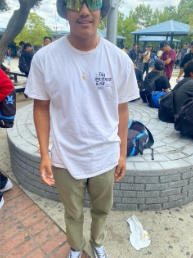 This junior boy got his pants from H&M and his shirt from a Kendrick Lamar concert.
His hat was gifted to him and his glasses are stolen.
He would describe his style as clothing items that he likes and wants to wear.
A common factor with most of the students above is that most of their clothes are from the thrift store. There has been a rise in thrifting to find vintage clothing and/or resell that clothing. Thrifting clothes used to be seen as uncool and would be used to attack those who were in the lower classes and couldn't afford brand-name clothing. Now, thrifting is something that is cool and unique. The rise in popularity of thrift stores has both negative and positive factors. The positive is that name-brand clothing isn't the norm anymore and kids whose parents can't afford it aren't being harassed and bullied by other kids. On the other hand, this means that the prices of thrift stores are going up as their popularity increases. 
Many students at our school have their own unique style that we can all admire. Our style brings us together. Many people have made lifelong friends that began by simply complimenting their clothing. So, if you're struggling to make friends, try making them smile with a compliment. People aren't always as scary as they seem.