Making it Far, Color Guard!
When you realize your hard work has finally paid off, you receive the real award.
 This year's Montclair Color Guard has proven themselves to be an impressive group. Unrelenting practices that never seem to end show just how much dedication everyone has to offer. And when they went out for the very first time after starting the season late, they showed everyone that they were always meant to be first place material.
With their first competition taking place at El Toro High School, they were in the lowest division. Which isn't anything bad. Six out of seven members had joined this school year (2021-2022) with absolutely no experience whatsoever. So, to score a 73 (the first place score) their very first time was outstanding. The second place team had only scored around a 69. A four point difference is huge, and most of those groups had already gone out for several competitions.
It had been an incredibly long day, too. The team had to arrive at Montclair High School at 10:45 A.M, rehearse for around two hours, put on makeup and costumes, and then drive themselves over to El Toro. With such a small team, it makes things harder. You can't have a bus, and all your supplies (floor, jugs, "flag bags) have to find a place to go. Once they arrived there, time seemed to have flown by. They got there around 4:00 P.M, performed around 6:00, and then waited for awards that started at 8:20 P.M.
The outcome had been worth it. First place. And they hoped to continue that for the competition that awaited them the very next day.
On a chilly Saturday morning, where hardly any clouds raked the sky, the Montclair Color Guard arrived at Santiago High School at 8:30 A.M. It was yet another long day. When a group is in a lower division, they perform earlier. The seven girls performed around 12:20, and waited for the awards that started at 2:00 P.M.
It had been terrific, another first place. And this time with a score of 77. The second place team had gotten a score of 67. With such a huge difference in the scores, the judges knew that our group would have to move up a division. Although ecstatic to receive the news of their bump-up, the group was nervous. When you go up a division, the groups get better, of course. Those groups have higher tosses, more choreography, more experience. But that doesn't mean they have it all down perfectly.
So when it came to their third competition at Martin Luther King High School on a Friday school night, Montclair knew that they had to out-perform the other groups.
With a score of 77.585, Montclair High School took first place. The other group was only two points behind, but a win is still a win. Sofia Sanchez, the team captain, says, "What matters most is not the placement, but the opportunity to display your hard work by doing what you love." Even if the second place team, Los Osos, had taken the win, the group knew that they gave their best effort in their new division. When they got first place, their joy was unimaginable.
"You can't achieve it if you don't try." Alina Nevarez says.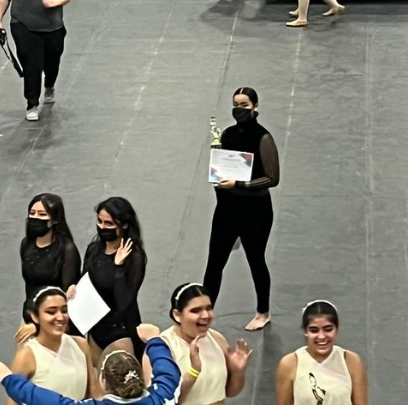 With the season nearing its end, the group hopes to medal at champs. With the audience, judges, coaches, and peers supporting them every step of the way, their dream of seeing their hard work around their neck is just within reach.
For reference with the different divisions, look at the table below (lowest to highest):
High School AA (HSAA)
High School A (HSA)
Scholastic AAA (SAAA)
Scholastic AA (SAA)
Scholastic A (SA)