MHS Boys Tennis 2023
May 22, 2023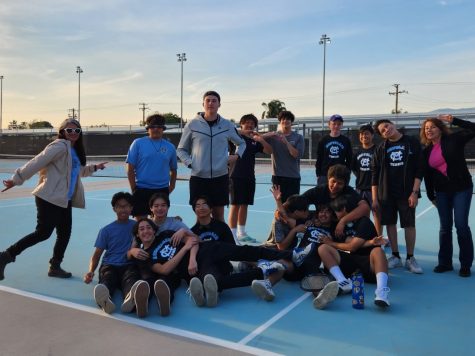 Tennis season ends once again after being undefeated, making it to CIF, and having doubles partners Adam Bien and Ryan Rabino win first place in the league last year. 
Many team members had no prior experience playing tennis but decided to join during their freshman or sophomore year. Ryan shares that he chose to play tennis because one of his friends joined it and he has loved it ever since. He also mentions, "I love tennis because it takes a lot of skill and training to be good, what I dislike about it though is that it is a mental game and that is a big thing you have to overcome." Alberto Hernandez shares that he joined the team after considering wrestling but deciding it was not the best fit. "I like how it all just flows and melts together," Alberto loved the relaxing atmosphere when he joined the tennis team and has liked playing ever since.
Even though the tennis season may have started off to a rocky start, having lost a couple of good team members in the beginning of the season, they were able to persevere. Alberto  shares, "I was expecting for us to fall a little bit this season since Carlos had left, but we were able to bring it back together and really well at that." This year the team placed second in the Mount Baldy League and went to CIF team competitions once again.  Ryan, Adam, and Brian Tran qualified for CIF individuals by placing first place in singles and first place in doubles. Hiep Tran also placed second in the League. "I knew we were gonna go undefeated in league and win prelims but didn't know I was gonna get destroyed in CIF individuals," declares Adam. Even though the boys may not have been able to win CIF individuals it is still important to remember how far they made it this season and the obstacles they overcame to get there.
Ryan shares that, "The main part of the game is to have fun and I really loved playing with everyone on the team, they have really turned into my family."After this season, the team is happy to have been able to make it so far and had a fun time playing together. Adam says, "I've learned a  lot and plan to play after high school." The boy's tennis team has brought people closer and has created a lot of good memories for those on the team.