Wes Anderson´s New ¨Star Studded¨ film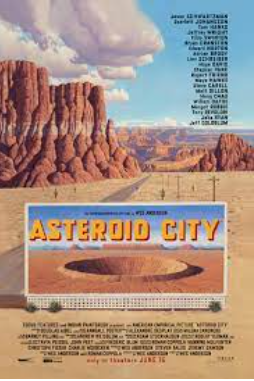 Considerable Wes Anderson fanatics have patiently awaited his new film Asteroid City, which is having its grand premiere at the 76th Cannes Film Festival on May 23, 2023. Where it will compete for the Palme d'Or. It´s set to be released by Focus Features in a ¨limited theatrical release¨ on June 16, before extending to a nationwide release on June 23.
The movie´s synopsis is ¨World-changing events spectacularly disrupt the itinerary of a Junior Stargazer/Space Cadet convention in an American desert town circa 1955.¨Staring Tom Hanks, Maya Hawke, Sophia Lillis, Margot Robbie, Scarlett Johansson, much of this movie is still under wraps. Anderson has yet to release to the public what the world-changing events are, but one thing we do know is the rating. It was initially given an R rating by the Motion Picture Association of America, due to its nudity, but Anderson was quick to repeal it. After much debate, the association passed it with a pg 13 rating. "I believe this makes it the first ever PG-13 film with the 'graphic nudity' descriptor'. Are you excited to see the new Wes Anderson film?