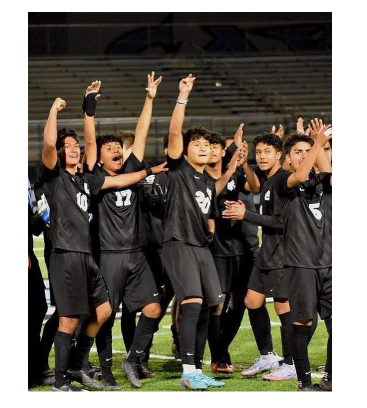 Courtesy of Victor Murillo
The sun begins to set and the broad beams illuminate the field. A handful of people are spread across the bleachers with hope in their eyes. A beckoning ring is heard as the whistle is blown and with the simple contact of the ball on feet, the game begins. 
       After many rigorous matches, our very own Montclair Boys soccer team triumphed; awarded with the esteem title of C.I.F champions. As a student it is my pleasure to recognize the hard work and dedication it took for these boys to win such a title. 
       Jeff Joines, who was awarded coach of the year has been the head behind the team for seven years. The sense of pride Joines expressed was memorable. "They are very talented, good players and they work hard," he said. Joines had every bit of faith in the team and was not surprised they had won. With high expectations, Coach Joines is confident the team can win both league and C.I.F champions for a second time. He believes they can go as far as winning Regionals. 
       Attaining a championship is an arduous task. So, accomplishing what many have been incapable of executing must feel pretty damn good. One of the team's goalie, Derek Garibay describes the feeling as "surreal". He went on to say, "the roar of the crowd gives me goosebumps every time I think about it." With this in mind one can only imagine the sensation of receiving the C.I.F State Championship rings. "I felt a sense of validation, it was a relief to finally have that on my finger," said Elias Cardenas, another talented keeper for the team. Already eager for another win, the skilled forward, Victor Murillo says, "It's a good experience, but we are trying to put that behind us and focus on getting another one this year". This further emphasizes the dedication put into the sport and the drive to obtain even more success. 
      In regards to the team dynamic, Ruiz stated "We are all a family, almost like brothers." Sweet words from the gifted defense, revealing the bond the sport has brought the team. It has united these players in their love for the universal game of soccer. The win "took a lot of heart" said Murillo. "It wasn't individual work, it was everybody." "No single person is responsible, it was a team effort," he said. Well spoken by the man who was awarded the all C.I.F Southern section team award and player of the year. 
       The team practices a minimum of two hours after school and for those who play club an additional two hours after. Ruiz, Murillo, Cardenas and Garibay claimed the sport was their life, demonstrating their dedication through their love of the game. All of them have faith in the team's abilities and believe they can win a second C.I.F title. 
What's next for these C.I.F Champions?
      The team plans on participating in a college showcase that will take place in Arizona during Christmas break. They are fundraising for this opportunity and will be there for 5 days. The team will also be moving divisions, which means greater competition as they take on division one teams. Without a single doubt in his voice Coach Joines said, "We are ready for it."